APS Introduces A New Attendance Policy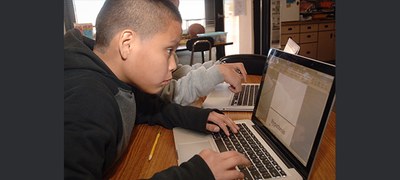 On Dec. 1, 2020 Albuquerque Public Schools announced changes to their attendance policy. The changes made by the district provided a more detailed policy that provides teachers with guidelines as to what level of engagement counts for a student to be counted as present for the day. 
"I like the new policy, so far. I think that this policy or something similar should have been put into place much earlier in the semester, since we have seen attendance problems since early in the school year," said Chyenne Lytle, a Chemistry and Anatomy teacher at Cibola. The new attendance policy states that all students need to be present for 51% of their class(es) to be considered present for the day. Student's are still not required to turn on their camera for attendance, but the district strongly recommends that students do so. A further change is inputting attendance daily rather than once a week.  Students and parents can track attendance each day which allows for more and faster accountability.
If a student is unable to attend a Google Meet for class they will be required to do asynchronous work to make up their absence. The district has defined what it means to be present during this asynchronous time with these guidelines: 
Participation in one or more district-designated learning management platforms (e.g. Seesaw, Google Classroom, or Edgenuity).
1:1 interaction with educators via telephone, text message, or email.
Evidence of completion and submission of assignments via one or more district-designated platforms or other mechanisms.  Note: When a student is unable to submit assignments via a district-designated platform, they shall be allowed to do so via emails, photos, phone conferences, paper packets, or other forms of documentation.
Teachers determine what level of asynchronous engagement is required in order to be considered "Present" for their class or period (based on the three items above).  Teachers should communicate this information to their students. 
When asked whether she thought the new policy would improve student accountability Lytle stated, "I do think it will increase student accountability, as it reflects on an attendance policy that is incorporated during a face-to-face school year. Students need to realize that, just as in a 'normal' school year, being in the classroom (google meet) is the opportunity to get valuable information and have the conversations that need to happen in order to be successful."