Opportunity Days Announced
Cibola Announces Opportunity Days to Give Students a Second Chance.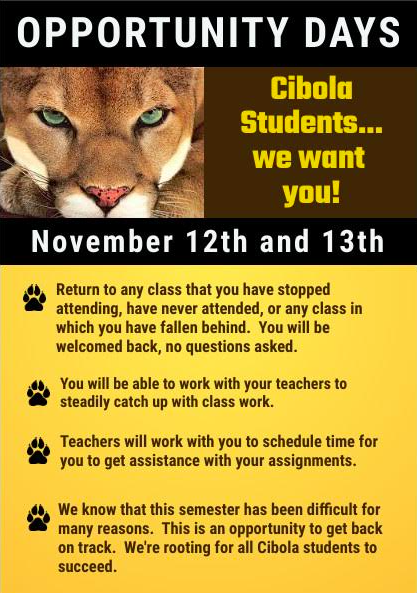 On Nov. 5, 2020 Cibola High School announced that they would hold opportunity days on Nov.12 and Nov.13. According to the statement students will be able to return to any class that they stopped attending, work with teacher to catch up with the class, schedule time to get assistance with assignments.
A post on Cibola's website stated, "log in with your teachers over these two days to earn an opportunity to make the last 6 weeks of this semester the best it can be for you!"
The announcement of the opportunity days comes after a month of brainstorming ways to lower the amount of failing grades that were seen in the first grading period.  Failing grades had doubled compared to the 2019-2020 school year's first grading period.
In an effort to combat the problem and to lower the amount of failing grades, Cibola's Instructional Council brainstormed multiple ways to help students. Such as, the announced opportunity days.
Cibola ended the announcement of their website by stating, "We know that this semester has been difficult for many reasons. This is an opportunity to get back on track. We're rooting for all Cibola students to succeed."