'Sobering' Data Shows Failing Grades Are Up In The First Grading Period
Data has shown that failing grades have gone up, astronomically in the first six week grading period.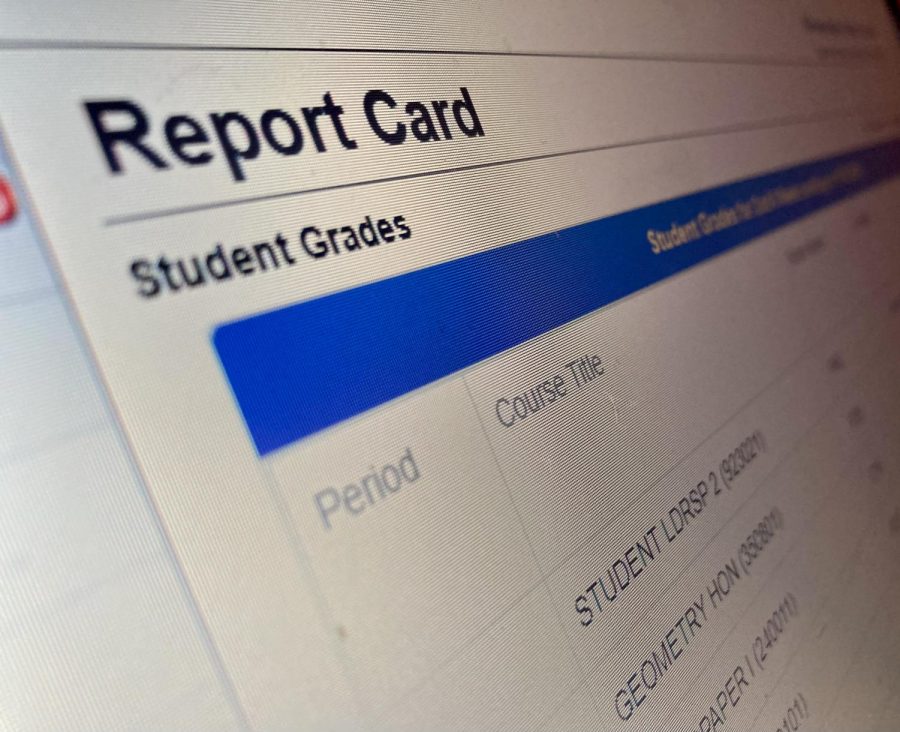 So far, the 2020-2021 school year has been unlike any year Cibola High School has seen in the past. Cibola, like all other schools in the APS district, has gone fully online. Online school has presented a fair amount of problems, as well as some added benefits. It takes minimal effort to get to class, schedules tend to be more flexible, and Cibola High School has moved to a later start time. On the other hand, many students feel unmotivated, burned out, and as if their workload has increased.
Another problem that presented itself in the first grading period were failing grades.
Grades that are submitted at the end of each six week period do not go on the transcripts of students and are a snap shot of where students are at that point in the semester; however, grading periods  do determine eligibility for NMAA activities, measure progress, and offer time for reflection.  Pamela Meyer, Cibola's Principal, called the data from the first grading period "sobering" as she presented it at an emergency Instructional Council meeting, 12 days after the end of the first grading period, on Sept. 30, 2020. The emergency meeting was called to address the number of failing grades that had been observed in the first six weeks.
Data showed that freshmen, above all, had the highest rate of failure. Next would be sophomores, juniors, and then seniors. The number of students with a failing grades had skyrocketed compared to the first grading period of the 2019-2020 school year. Many factors such as: home life, attendance, mental health, and technological problems have all been attributed to the failing grades problem that is plaguing not only Cibola, but the district as well.
A Look At The Numbers
In total, there were 729 students who had at least one failing grade at Cibola High School for the first six week progress report of the 2020-21 school year.  The number amounts to about 43 percent of Cibola's student population and the data shows the number of failing grades doubling from the 2019-20 school year. While it is important to note that enrollment is down by 124 students within the first six weeks, the number is still staggering.
"When I say the failure rate is high, I mean it was two times what it was this time last year," Principal Meyer said while explaining the data.  Overall, in the first grading period, freshman had the highest number of students with at least one failing grade, with 239 students. The report was 26.5 pages long. Next was sophomores with 231 students with at least one failing grade. After sophomores, came juniors with 145 students with at least one F, and then seniors. Seniors had the lowest number of students failing one or more classes with 114.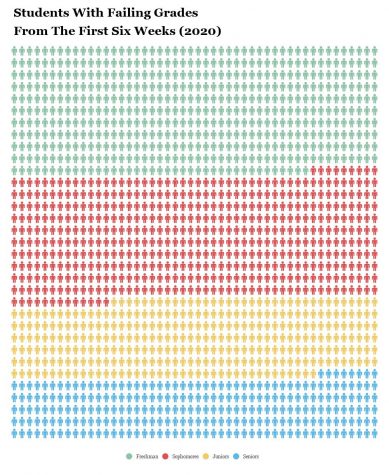 The numbers seen within the first six weeks are unheard of and a fairly large. In the freshman class alone, the number of failing grades had gone up by about 127 percent.
But, Cibola is not just seeing failing grades, and failing grades alone. In the first six weeks Cibola had 1706 students enrolled. With 729 students failing, 977 students still had no failing grades in their grade book and which may be above average grades because of a shift that has taken place in grade distribution.
"What we are seeing now however is sort of strange in Zone 3.  Grade distribution is normally Some A's, some B's lots of C's and D's and some F's.  A trend that we are seeing during this first 6 weeks… is lots of A's and B's only some C's and D's and then lots of F's," stated Associate Superintendent Amanda DeBell of District 3.  So, while it is important to note that many are passing classes, it also should be known that these numbers are unprecedented and unlike what Cibola has ever seen.
Now that the data has been observed Cibola's Instructional Council has been looking towards solutions and many people ask: What is causing the drop in grades?
Student Home Life
Albuquerque Public Schools is the largest school district in New Mexico. The district serves  75,300 students, which amounts to 1/4 of the states total student population. With such a large population of students that range in ethnicity, race, socioeconomic status, religion,  and so much more, it is safe to say no two students in the APS district live the same life.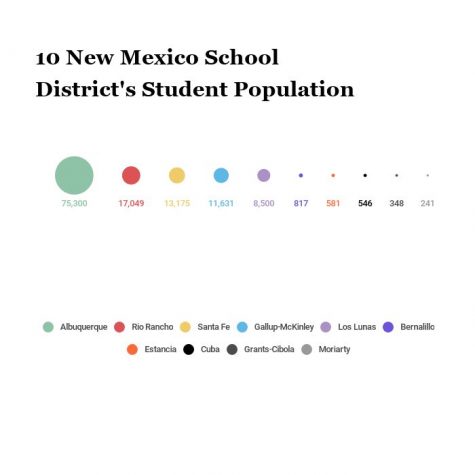 In such an unprecedented time, many families are having to adjust to harsh circumstances.  An economic report produced by the New Mexico Department of Workforce Solution stated, "New Mexico's seasonally adjusted unemployment rate was 9.4 percent in September 2020, down from 11.4 percent in August and up from 4.8 percent in the previous year. The national unemployment rate in September was 7.9 percent, down from 8.4 percent in August and up from 3.5 percent in September 2019."
Associate Superintendent DeBell explained how economic troubles are impacting students education:
"Many students have brothers and sisters or other family members who are also in school.  Some students are charged with being a daycare provider for their siblings, and some high school students are working to help their families who may be out of work because of the pandemic. As a result of these additional obligations besides school, finding time to log on at a given class time may prove difficult," she said.
Many things in a students home life are out of the control of educators.
Attendance
In the data Principal Meyer presented to Cibola's Instructional Council, a multitude of things were presented besides just the number of grades. Student information, grade level, the classes the student was failing, whether they were special education or general education, if they were reclassified, whether the failing grade was 40 percent or lower, and if the student had a contact rate that was low, medium, or high.
"Contacts" are now the new attendance at Cibola High School. A student can earn a contact by, in some form, communicating with a teacher. This can mean showing up in a class, turning in an assignment, or even sending an email to their teacher.
Principal Meyer stated, "In the cases where a student is failing classes there were quite a few that were low contact. But, in addition to that, there were students who were medium of high contact, and were still failing. In those cases, it is probably kids who are logging in for the Google Meet, maybe they're leaving early or they're coming late, potentially. But they just were not turning in assignments… But, yes the vast majority of the students who were failing was because they were not contacting the teacher or turning in work."
There also seems to be low motivation to go to classes. Nicholas Orbinati, a 10th grader at Cibola High School criticized online classes by saying,  "There's very little learning in class, most of my classes are just reviewing the homework from the previous night."
While many struggle to continue to login to class, some just have not logged in at all. Principal Meyer stated that teachers were also having a hard time getting in to contact with the parents of students who were missing classes.
In an effort to combat the problem Bernalillo County Sheriff's Office announced Operation Educational Encouragement. The operation's purpose is to increase attendance by making contact with students at their homes. An update was given Oct. 7, 2020 via the Sheriff's Office twitter page, which had stated that 71 homes were visited. No further updates have been given.
Cibola High School has also announced their own approach.They announced that they will host opportunity days on Nov.12, 2020 and Nov.13, 2020. In the flyer that was released to the Cibola community, the school promises that students can return to any class that a student has either: stopped attending, has never attended, or has fallen behind, with no questions asked. The flyer goes on to state that students will be able to work with teachers to catch up. They are using the two days to assist students and to give an opportunity to students who want to get caught up in their classes.
Mental Health
Mental health has been one of the main points of conversation since the beginning of the Covid-19 pandemic. In a CDC article entitled, "Coping with Stress" the organization stated, "The coronavirus disease 2019 (COVID-19) pandemic may be stressful for people. Fear and anxiety about a new disease and what could happen can be overwhelming and cause strong emotions in adults and children. Public health actions, such as social distancing, can make people feel isolated and lonely and can increase stress and anxiety"
Before entering the 2020-2021 school year, APS outlined how they would help students with social emotional learning during such an anxiety inducing time. The district stated in their re-entry plan, "In planning for next year, we must assume academic learning cannot take place fully without creating an environment of emotional safety and connectedness for students. This can be a challenge if there is a necessity to begin the year in a distance-learning environment at a time when teachers normally focus on relationship-building and establishment of a classroom culture. Schools will need additional tools to adapt to this new environment while continuing to meet student needs."
APS also introduced "3 R's" that teachers need to be aware of: relationship, routine, and resilience. The re-entry plan explains that this is a way to help reduce the impact of trauma.
During a meeting of Cibola's Student Senate, senators brainstormed what might have been causing the large number of failing grades. A main talking point during that conversation was a loss of motivation and an increased work load.
Students outside of Senate also said similar things. Liza Garcia, a sophomore at Cibola, described her workload as "stressful" and said: "My motivation for school has been impacted a lot because I used to like school, now it feels like a chore." Abby Carlson, an 11th grader at Cibola also stated that she felt like school is, "More challenging and stressful."
With the absence of the safety net that school provides to students Brooke Steckley, an English teacher a Cibola said, "I'm very concerned about student mental health during this pandemic. I've been trying to connect students with their school counselors when it seems warranted, as well as providing encouragement. All the teachers I talk to regularly have been struggling with Virtual Learning, sharing similar concerns and issues."
It is advised that if you are struggling with your mental health that you contact a trusted adult or a counselor.
Moving Forward
Not everyone is too concerned by the numbers. APS Board of Education President, Dr. David Peercy stated, " I have confidence in our teachers and our students to address any issues. APS will figure out how our teacher/platform instruction needs to improve, and make our delivery of education better for our students."  Associate Superintendent Debell also stated that she was not: "Super worried."
Principal Meyer said she expects for the number of failing grades to be lower in the second grading period, which ended Nov. 6, 2020. But, she still expects that the number of failing grades will be higher than the second grading period in the 2019-2020 school year.
Cibola's Instructional Council continues to brainstorm solutions to a rather complex problem.