Cougars Begin New Remote Learning Schedule
Switch moves all synchronous learning to mornings and asynchronous work to afternoons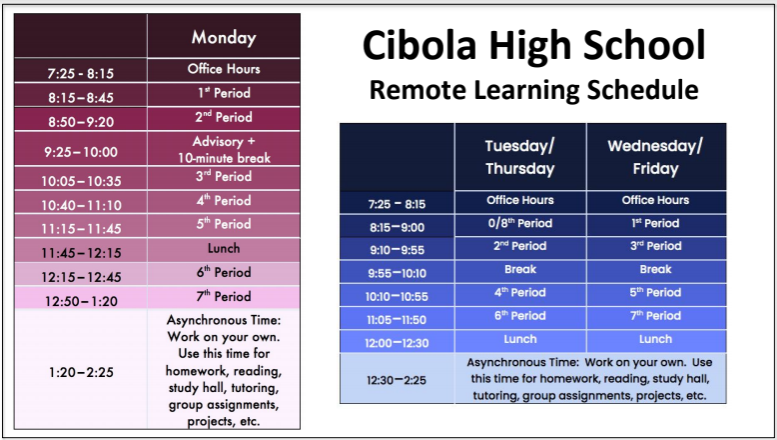 Josiah Ward
September 14, 2020
On Tuesday, Sept. 8, 2020 the Cibola High School Instructional council voted to modify the online learning schedule. The new schedule went into effect on Monday, Sept. 14, 2020 and included a later start time as well as a change to instructional time. The vote comes after administration and others received feedback about the current schedule.
The schedule that Cibola's students were adhering to alloted 90 minutes to 3 classes a day Tuesday through Friday with a 35 minute break in the mornings, except on Wednesdays. On Wednesdays, students attended a call with their advisory teacher and peers during their break time. During the four days students spent 45 minutes of their 90 minute class periods doing synchronous work. This means, they were on a video call via Google Meets with a teacher and their peers. During this time they could be receiving instruction or partaking in a whole group activity. After the 45 minutes was up,  students were expected to do asynchronous work meaning they worked independently on a project, essay, or any other assignment. On Mondays, students attended all of their classes for 20 minutes at a time and finished the day at  11:20 a.m.
After nearly a month of following the schedule Cibola's Instructional Council decided to scrap it. This schedule was made at the beginning of the year to accommodate the hybrid reentry plan that the Albuquerque Public School  district had originally laid out to the community. But after the district's educational board voted to continue remote learning for the year Cibola decided it was time for a change in the schedule, especially since it had some drawbacks for those in the Cibola community.
First, Cibola looked at schedules from other high schools. After, they made samples for student representatives and faculty to look at and agree upon. Once they got a sense for what students and faculty wanted they developed a ballot for the Instructional Council to vote on. The Instructional Council is made up of: administration, parents, students, and teachers from each department. Each group is given one vote in order to keep things fair. Students were represented in the Instructional Council by the student Senate.
The Instructional Council voted to start the school day at 8:15 a.m. instead of 7:30 a.m. and they also voted to have all synchronized learning occur  in the morning from, 8:15 a.m. to 11:50 a.m. After the students have done that, they will have lunch for 30 minutes and then work independently from 12:30 p.m. to 2:25 p.m. More than three quarters, or 76%, of student representatives voted in favor of the separation of synchronous and asynchronous classes allowed by the new schedule.
The later start time seems to be something many students are in favor of. Miakoda Trenbeth-Tippetts, a sophomore at Cibola stated, "I like it."  Her opinion seems to align with other student's opinions. Even those like Jayla Gallegos, a Senate Officer for sophomores, who liked the current schedule said, "If I could change one thing it would be the start time to be a little later."  It's not by chance that students like starting later. Activities Director Jeanine Chavez explained that, "We have known that the teenage brain is not suited for early mornings," echoing statements that have previously been made by organizations like the CDC. Chavez had told me that later start times for high schoolers had been talked about at the district level multiple times, but since busses had to run a tight schedule it was not possible to take any action. Now that busses are not running during remote schooling, Cibola decided to seize the opportunity and start later.
Students and parents  also seem to be in favor of the separation between synchronous and asynchronous learning. Brittany Trenbeth, a Cibola parent, stated that the new schedule was more practical because she thought it was, " a lot of time sitting at a computer."  10th grade student Ariana Bathurst also told me that she liked the fact that she will not be staring at a screen and sitting for so long stating that doing so, "really hurt my eyes and gave me headaches." Not only did students and parents express a liking to the new schedule but so did teachers. Jose Arias, a Spanish teacher at Cibola thought that it was a good change, but still can't wait to get back to in-person learning.
While many seem to be in agreement that this schedule is better for online learning there are also concerns with it. Jeanine Chavez told me that she was, "torn." She liked the idea of separating the synchronous and asynchronous times because it would help her students who work in the evening and those who will be partaking in sports. But she also said,  "I am worried that students are going to log off at 11:55 and think they are done with their day."  She is concerned that less work will be done among students, which would lead to a drop in students' grades.  At the end of our interview she told me, "This is not an ideal situation for school. So, hopefully this schedule can make it more pleasant."